Quick Links

Buyers Guide
Wholesale Needlework Sources
Yarn Tree
Publisher Of The Needlework Retailer and Needlework Distributor
Retail Store Photo Gallery
View All
>> 2015 Nashville Spring Needlework Market <<
Pre-registered stores can attend the show free. After February 10, 2015 the registration fee at the show is $50 per store.

Nashville Class Registration is Now Open!
Click here to register for educational classes held during the 2015 Nashville Spring Needlework Market!

Needlework Retailer
The only trade magazine devoted entirely to the counted cross stitch, needlepoint, and needlework industry.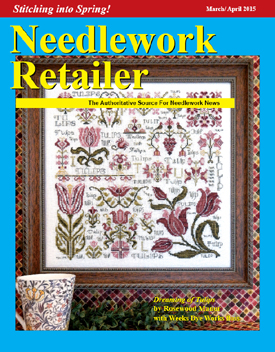 Email: info@needleworkretailer.com for advertising information or call Megan Chriswisser at 800-561-5380





Photo Gallery
Retail Store Photo Gallery & More

Wholesale Trade Show photos
Photography
Taking Better Product Photos

Common Photo Mistakes

Links To Photo Sites
Marketing
Marketing 101

Niche Marketing

Marginal Profit

Breakeven Analysis

Monte Carlo Technique

Spreadsheet 101
Store Promotions
Passport Tour

An Evening Of Elegance

Art Walk

Free Coffee

Pajama Party
Website Development
Make Your Own Favicon

Banner Exchange
Other Services
Color Banners

Offset Color Printing
Article Reprints
Thinking Outside the Boxed Pillow

Is She a 3 or a 4?

Teaching In Your Shop

The Value Added Sale

Retail Promotions

Models Sell Product

Make Sales Happen

Greeting Customers

Freebies--Bane or Blessing?

Planning Events Checklist

Employee Handbook / Sample Handbook

Going the Extra Mile
Guest Articles
Register For Nashville Now
nashville2015/images/wall-paint-video.mp4

Needlework Retailer News
by Megan Chriswisser, Editor

We highlight a new product each day on the needlework blog. Email us if you have news you would like included. Receive the Needlework Retailer News by email.
View All