Standard Page Layout
Our magazine layout is designed with one goal in mind: to help you sell more product by making you and your products look as good as we possibly can. We want your product to jump off the page. We start with heavier, whiter paper than is commonly used. This is more expensive, but it is the only way to make colors 'pop'.
Here is a typical page layout.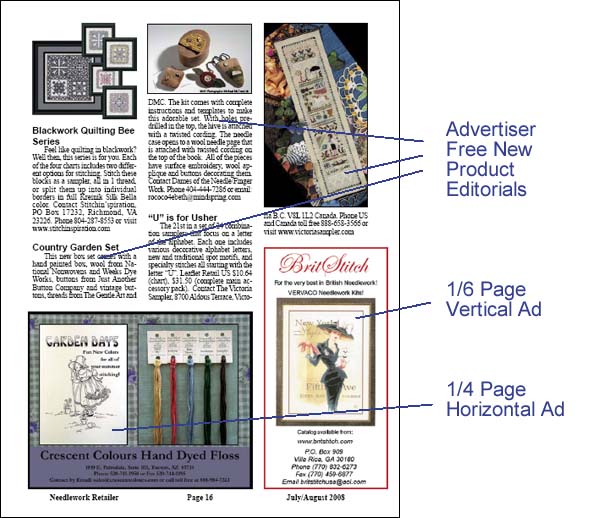 For stores, deciding on which products to buy is serious work. Stores are not looking to be entertained. They are looking for new products that will sell in their store. Our layout is designed with this in mind. About half of each issue is devoted to free advertiser new product editorials.
The free advertiser new product editorials are typically located at the top of the page, with paid ads along the bottom of the page.
Needlepoint Showcase Page Layout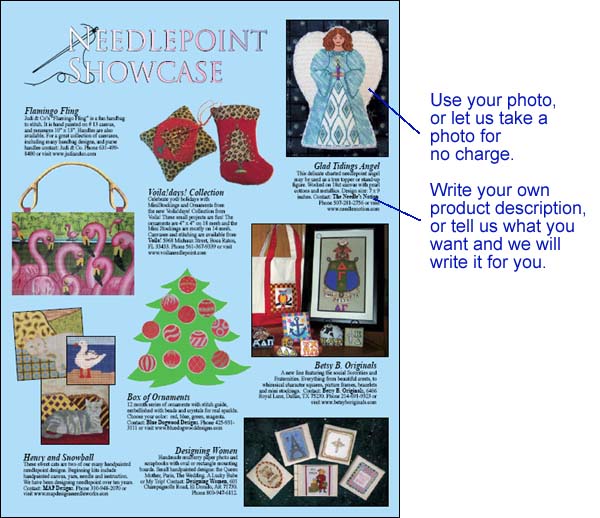 The Needlepoint Showcase is a special advertising section reserved exclusively for needlepoint kits, canvases, and related needlepoint products.
This special section just for needlepoint products is in the March/April, July/August, and November/December issues.
Individual showcase ads consist of a color product photo, a product description (about 25 to 50 words), plus company contact information. We encourage advertisers to write their own text, but we can write this for you.
Above is a typical page layout. There will be an average of about 7 products per page. There will usually be 2 to 4 pages of ads. The section has a solid background to (in this issue we used blue) to make it stand out.
The cost is only $150. You may send an item to be photographed or we can use your photo. There are no layout or photo charges. You can purchase multiple spaces.